Get lost in fun with our awesome selection of obstacle courses. Filled to the rim with fun and excitement our obstacle courses are a great way to bring interactive fun to any event or gathering.
Obstacle Course Lenoir NC
Step right up and choose the obstacle course Lenoir NC loves most from your friendly neighborhood party pros, GoodTymes Inflatables! We're here to take your party to the next level of AWESOME! We're not just your ordinary party rental company – oh no, we're the masters of fun and the purveyors of excitement, and we prove that to our loyal customers over and over again with unbeatable customer service, competitive pricing, and exciting inflatable obstacle courses that steal the show!

Why settle for a run-of-the-mill party when you can transform your backyard into a playground with the best obstacle course Lenoir NC has to offer? We specialize in inflatable attractions that will have your guests jumping for joy from start to finish. From the towering adult obstacle course rental Lenoir NC seeks out to test agility to gigantic slides that will send you soaring through the air, we've got it all!

Our selection of obstacle courses is simply out of this world. Are you ready to conquer the Great Wall of Fun or challenge your friends to a race through the Adrenaline Alley? With twists, turns, and heart-pumping hurdles, these inflatables are sure to bring out the competitive spirit in everyone. Let's see who's got the skills to be crowned the ultimate champion!

But it's not just about the adrenaline rush and never-ending fun. Safety is always our top priority. All of our inflatables and rentals are meticulously maintained and regularly inspected to ensure they meet the highest standards. We want you to have a worry-free experience, so you can focus on having a blast with your friends and family in Lenoir, North Carolina, or the surrounding areas of Caldwell County.

Booking the obstacle course Lenoir NC trusts is a breeze. Our user-friendly website allows you to browse our wide range of attractions, check availability, and secure your reservation in just a few clicks. We're here to make your party planning process smooth and stress-free. Whether you're hosting a backyard bash, a school event, or a corporate outing, our inflatables will make your party the talk of the town. Get ready to take your celebration to new heights – GoodTymes Inflatables is here to deliver just that!
The Obstacle Course Rental Lenoir NC Can't Get Enough Of!
Wondering who has the obstacle course rental Lenoir NC chooses for all its events? GoodTymes inflatables, of course! Our incredible range of products is perfect for a variety of events where fun is the name of the game.

Birthday parties will never be the same once you bring our team of fun-loving party pros into the mix. See the delight on your child's face as they bounce, slide, and conquer obstacle courses with their friends. It's a party they'll remember for a lifetime, and you'll be hailed as the ultimate party-planning guru! We also carry the perfect obstacle course rental Lenoir NC schools choose from for their events. From field days to carnivals, our inflatables will turn any gathering into a whirlwind of laughter and excitement. Watch as students challenge each other to races, navigate through tricky obstacles, and cheer each other on as they conquer new heights. These experiences foster camaraderie and create memories that will last well beyond the school years.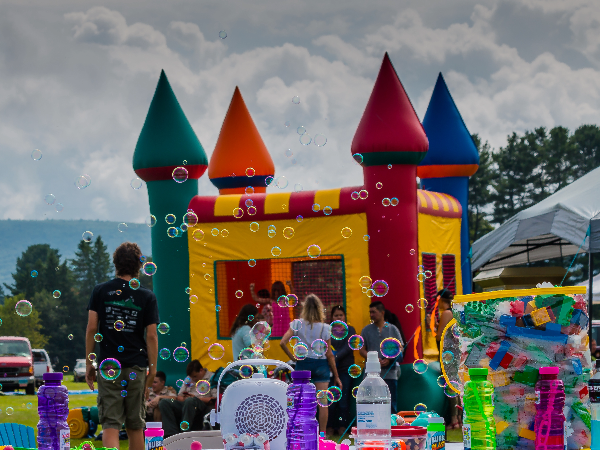 Corporate events can also benefit from the GoodTymes Inflatables touch. Break the ice and boost team spirit with friendly competitions on our obstacle courses. Who knew team-building exercises could be this much fun? Plus, our inflatables add a touch of playfulness and creativity to company picnics and outdoor retreats, making them truly memorable occasions for all ages and participants. Community festivals and fairs are the perfect choices for the obstacle course rental Lenoir NC can depend on for endless entertainment. Bring the thrill to your town's annual celebration with our towering slides, challenging obstacle courses, and engaging interactive games. Whether it's a summer carnival or a fall fair, our inflatables will draw crowds and create a buzz that keeps people coming back year after year.

So, whether you're planning a birthday bonanza, a school extravaganza, a corporate gathering, or a community blowout, GoodTymes Inflatables is here to make your event shine brighter than ever before. Along with exciting inflatables, we offer concessions, event rentals, and the photo booth rental Lenoir NC uses to take an event from drab to fab in no time. Let the fun begin!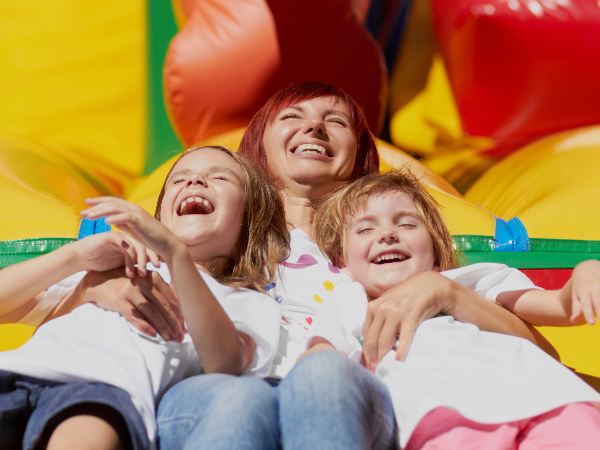 The Best Options for an Inflatable Obstacle Rental Lenoir NC Loves
Prepare for an adrenaline-fueled adventure like no other with the inflatable obstacle rental Lenoir NC can't get enough of. Our selection is packed with thrilling challenges that will test your agility, speed, and determination. Scale towering walls, dodge swinging obstacles, and conquer heart-pumping hurdles. Want to ignite some friendly competition? Our side-by-side race courses will have you and your friends battling it out for victory. With vibrant colors, sturdy construction, and top-notch safety features, our inflatable obstacle courses guarantee non-stop excitement for party-goers of all ages and make us the best obstacle course Lenoir North Carolina can provide! Get ready to unleash your inner warrior and embark on an epic journey of thrills and triumphs with our super safe and fun options.
For maximum fun, book one of our giant obstacle course rentals, like our new 60' Inflatable "Toxic" Obstacle Course. Bouncy, eye-catching, and complete with a giant slide at the end, this obstacle course has it all. This massive course was designed with fun in mind and is ideal for large events, fundraisers, or even corporate team-building outings. Its size and heavy-duty, industry-grade material make it the perfect course for kids and adults alike. This rental is one of the best options for those seeking an adult inflatable obstacle course Lenoir NC loves!

Our 40' Super Obstacle Course is a great option for medium-sized events or gatherings. It's still inflatable and guaranteed to light up any backyard party, church event, or even a public community event. Its sturdy material makes it the perfect blow up obstacle course Lenoir NC can count on for several different types of events. Starting at just $275.00, its competitive price makes this obstacle course one of our most popular.

Anyone looking for a smaller solution for a birthday party that still packs a big punch should choose our 25 Ft. Spider-Man Obstacle Course. Do whatever a spider can on the fantastic inflatable course that's always a big hit at parties. Starting at just $225.00 and featuring the titular wall-crawler at the forefront, kids and adults alike can marvel at one of the best bouncy obstacle course rental Lenoir NC can find! Whether you're on the hunt for something to entertain hundreds of people or just want to keep the neighborhood kiddos busy during a long holiday weekend, we have you covered with the obstacle course bounce house Lenoir NC uses year-round!
How To Rent An Obstacle Course In Lenoir NC Online
Finding out how to rent an obstacle course in Lenoir NC with GoodTymes Inflatables is as easy as a hop, skip, and a jump! Our user-friendly online booking process ensures a seamless and hassle-free experience, allowing you to secure your adventure with just a few clicks.

To begin your journey to non-stop fun, simply browse through our treasure trove of inflatable obstacle courses to choose from. Take your time to search through our exciting options, each guaranteed to ignite your inner thrill-seeker! Once you've discovered the perfect inflatable for your event, check its availability by selecting your desired date and location. Don't worry – we deliver to zip codes 28633, 28638, 28645, and others, including Boone, Newton, and Valdese, ensuring that we've got you covered in Lenoir and the surrounding areas.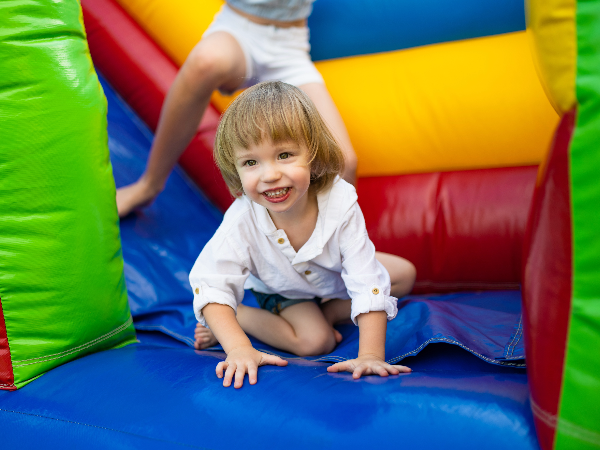 Next, click on the "Book Now" button, and you'll be directed to our straightforward booking form. Provide us with the necessary details, including your contact information and event specifics, so we can make sure everything runs smoothly.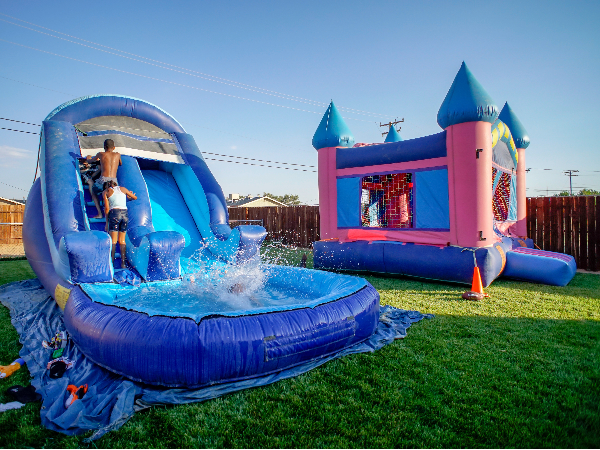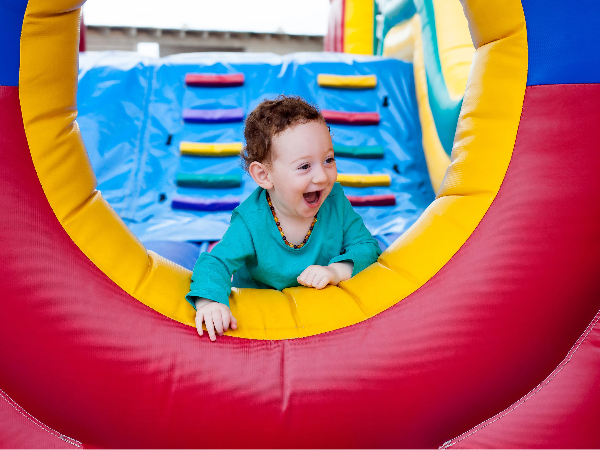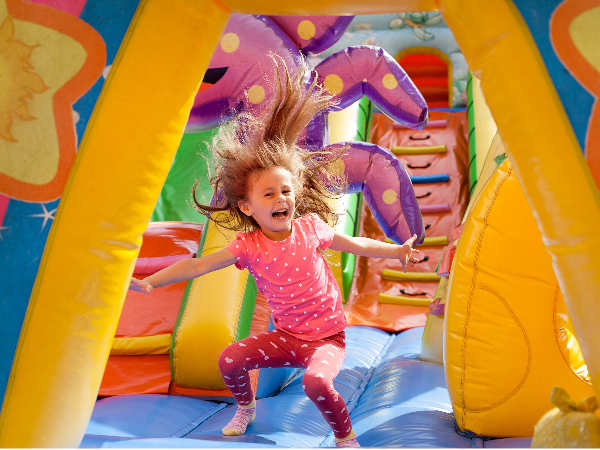 With your information in hand, the process of how to rent an obstacle course in Lenoir NC has never been easier. Once you've completed the required deposit by submitting payment through our secure system, our team will process your booking and confirm it via email or phone. Rest assured, we prioritize your convenience and strive to respond promptly to your inquiries.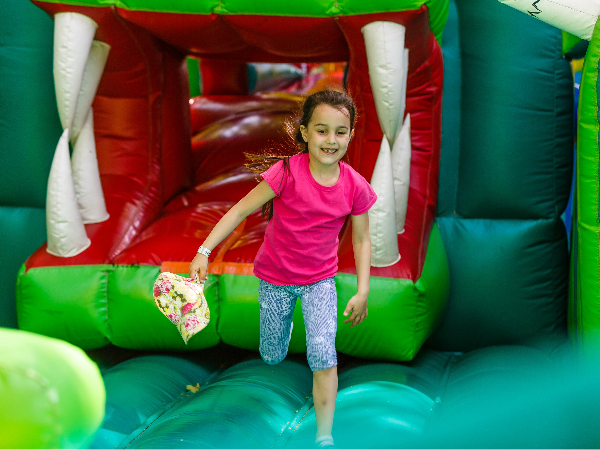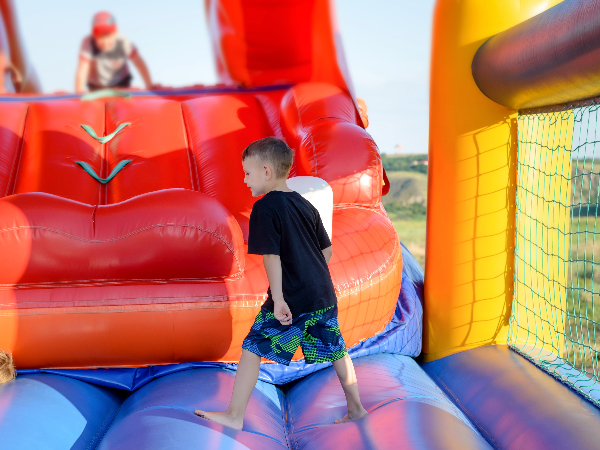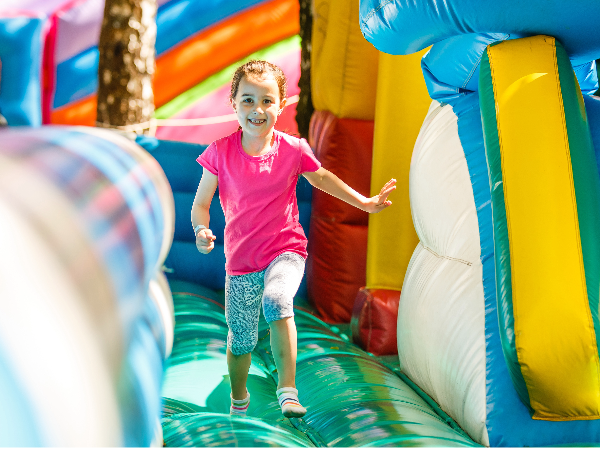 Once your reservation is secured, all that's left to do is eagerly anticipate the arrival of your inflatable obstacle course on your chosen date. Our dedicated delivery team will ensure a timely setup, leaving you nothing to worry about. Embark on your unforgettable adventure today by booking your GoodTymes Inflatables inflatable obstacle course online. Get ready to jump, slide, and conquer—the fun is just a few clicks away!
We Deliver The Obstacle Course Rental Lenoir North Carolina Uses Year-Round
GoodTymes Inflatables is thrilled to deliver the obstacle course rental Lenoir North Carolina prefers! We proudly deliver our exhilarating inflatables to the 28633, 28638, and 28645 zip codes, as well as the surrounding communities of Hickory, Morganton, Valdese, Drexel, Newton, and Boone, ensuring the fun doesn't stop at your doorstep.

Our prompt and reliable delivery service will transport the excitement right to your preferred location. Whether you're planning a birthday bash at home or a community event at Lenoir Optimist Park, T.H. Broyhill Walking Park, or J.E. Broyhill Park, we'll be there with our vibrant and thrilling inflatables to make your gathering an unforgettable experience. For schools in Lenoir County Public Schools, GoodTymes Inflatables is the go-to party partner. From field days to carnivals, we'll transform your school grounds into a wonderland of fun and adventure. Watch as students engage in friendly competitions, conquer challenging obstacle courses, and create memories that will last a lifetime with our inflatable obstacle course rental near Lenoir NC.
We understand the importance of convenience, which is why our delivery service ensures that you can focus on enjoying your event without any worries. Our team will set up and take down the inflatables, leaving you with more time to immerse yourself in the joy and laughter of your celebration and ensuring that you remember us as the obstacle course rental Lenoir North Carolina knows that can deliver on time and with quality. Whether you're in the heart of Lenoir or its surrounding areas, GoodTymes Inflatables is just a phone call away. Let us bring the excitement and entertainment straight to your doorstep, and get ready to experience a party like never before!
FAQs About Our Lenoir NC Obstacle Course Rental
Do you have questions about our Lenoir NC obstacle course rental options? Check out our FAQs below and get in touch with our team if you have any questions. We do our best to make the process as simple and straightforward as possible, so we can get you to the fun quicker! We understand that party and event planning can be grueling, so let us help you take some of the stress out of it so you can have more fun and make some memorable experiences. Choose us for your inflatable obstacle course rental, and let us take care of the rest!
Q.
Does it need to remain plugged in the whole time?
A.
Yes, once they are unplugged, the air begins to leave, and they deflate. We're happy to provide a cord for you to ensure the inflatable has access to electricity. We also have generators available for rent if you're hosting an event at a local park or somewhere without reliable access to power.
Q.
Do you require a deposit?
A.
Yes! In order to secure your Lenoir NC obstacle course rental, you will first need to put down a $50 credit card deposit. They are nonrefundable if you cancel your order. The deposit paid will serve as a rain check if the weather does not cooperate.
Q.
What if we need to cancel?
A.
Give us a call as soon as possible, and we can begin the cancellation process or work with you to reschedule your event.