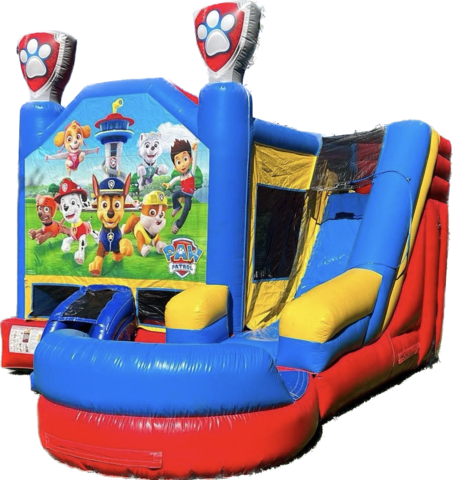 Paw Patrol 6n1 Combo




Regular Price: $275.00
Over 6 hours: $325.00
Overnight: $350.00
Multi-Day: Full Price Per Extra Day



Introducing the ultimate adventure for PAW Patrol fans—the PAW Patrol 6-in-1 Combo Inflatable Bounce House with Slide! Get ready for an action-packed playtime experience that combines bouncing, sliding, and endless fun with everyone's favorite heroic pups.

This incredible bounce house is a thrilling playground that features not just one, but six exciting activities in a single inflatable structure. Young adventurers will be captivated by the vibrant colors, detailed PAW Patrol artwork, and immersive design that brings the beloved characters to life.

As children step into this inflatable wonderland, they'll discover a world of imaginative play and active exploration. The bounce house area offers ample space for kids to jump, leap, and bounce to their heart's content, surrounded by cheerful graphics of Chase, Marshall, Skye, and the rest of the PAW Patrol team.
Safety is top priority, which is why the PAW Patrol 6-in-1 Combo Inflatable Bounce House with Slide is crafted with durable, commercial-grade materials. The reinforced stitching, high-quality inflatable walls, and safety netting ensure a secure and reliable play structure that can withstand hours of active play. Rest assured, this bounce house meets all safety standards and regulations for worry-free fun.