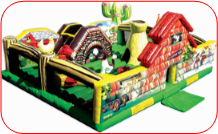 My Little Farm




Regular Price: $180.00
Over 6 hours: $230.00
Overnight: $255.00
Multi-Day: Full Price Per Extra Day



Our delightful Toddler Farm Bounce House has a vibrant and captivating play space designed specifically for your little ones! Step into a world of farmyard fun as your child's imagination takes flight amidst adorable farm animals, bright colors, and a safe, inflatable haven.

This charming bounce house is thoughtfully crafted with the youngest adventurers in mind. Its soft, cushioned walls provide a secure environment for energetic bouncing, while ensuring maximum safety for curious toddlers. With its farm-themed design, complete with smiling barn doors, cute farm animal illustrations, and lush green fields, your child will be transported to a magical world of rural wonders.

As your toddler enters the bounce house, they'll be greeted by an array of friendly farm animals, Each animal is carefully illustrated to capture their endearing personalities, sparking your child's creativity and encouraging imaginative play. With its spacious interior and low bounce height, this bounce house is perfect for toddlers to safely explore, jump, and frolic. The soft, bouncy floor adds an extra layer of comfort, ensuring a gentle landing with each leap. Whether your child is bouncing, crawling, or simply enjoying the farm-themed ambiance, this inflatable play structure promises hours of joy and laughter.