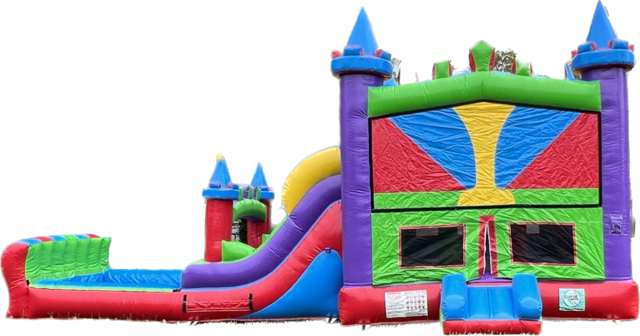 Dream Castle Combo (New 2023) (Available Now)




Regular Price: $275.00
Over 6 hours: $325.00
Overnight: $350.00
Multi-Day: Full Price Per Extra Day



Welcome to the Dreamcastle Combo Bounce House with Slide, a realm of enchantment and boundless fun! Step into a world where dreams come to life, where imaginations soar, and where endless adventures await within the walls of this magical inflatable wonderland.
As you approach the Dreamcastle, you'll be captivated by its majestic presence. The bounce house stands tall and proud, showcasing vibrant colors and intricate details that transport you to a realm of fantasy. Its towering turrets and whimsical architecture evoke a sense of wonder, inviting you to enter and discover the magic within.
Upon entering the Dreamcastle, you'll find yourself immersed in a realm of pure delight. The bounce house's spacious interior offers ample room for bouncing, jumping, and frolicking with friends. Soft, cushioned floors provide a springy foundation, giving every step an extra bounce of excitement.