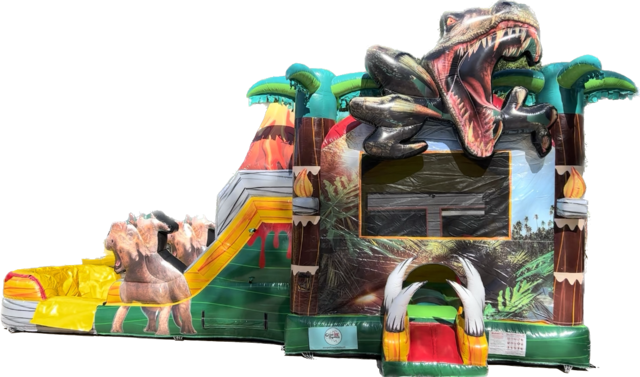 DinoSaur Combo (New 2023) (Available Now)
Actual Size: 30x13x14
Setup Area: 36x17x16





Regular Price: $275.00
Over 6 hours: $325.00
Overnight: $350.00
Multi-Day: Full Price Per Extra Day



Welcome to the prehistoric wonderland of the "Dinosaur Combo" Get ready to embark on a journey back in time, where majestic dinosaurs roam and endless fun awaits.

Step inside this magnificent bounce house and be transported to a world where dinosaurs rule the land.
As you enter the bounce area, the soft, bouncy surface beneath your feet propels you into a realm of pure joy. Jump, leap, and bounce to your heart's content, feeling weightless and free as you explore this dinosaur-filled paradise. The laughter and giggles of children fill the air, creating an atmosphere of boundless happiness.

But the adventure doesn't stop there! Just beyond the bounce area, an exhilarating surprise awaits — a thrilling slide. Ascend the ladder, feeling a sense of anticipation building within you. The towering slide stretches out before you, offering a thrilling ride that combines speed and excitement.