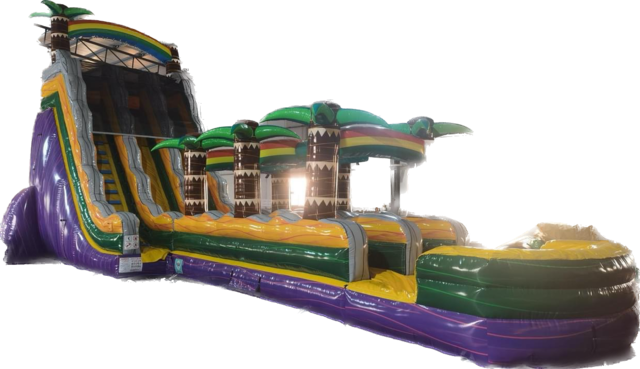 24' Gigantic Beach Palm WaterSlide Double Lane (New 2023) (Available Now)
Actual Size: 50x13x24
Setup Area: 56x17x26





Regular Price: $525.00
Over 6 hours: $575.00
Overnight: $600.00
Multi-Day: Full Price Per Extra Day



Immerse yourself in a thrilling tropical adventure with our magnificent 24-foot high and 50-foot long Beach Palm water slide. As you ascend the towering structure, your anticipation builds, knowing that an exhilarating journey awaits. At the summit, you'll be greeted by breathtaking views.
With a daring leap, you plunge down the slide, feeling an adrenaline rush as the refreshing water splashes around you. As you descend, the warm sun kisses your skin, and the cool ocean breeze rushes past, making each moment a sensory delight.

Once you reach the end of the slide, you gracefully splash into a crystal-clear pool, surrounded by a vibrant tropical paradise. The beach palm water slide offers an unforgettable experience, combining the thrill of a water slide with the tranquil beauty of a beach oasis. Get ready to create lasting memories and embrace the joy of summertime fun with this spectacular water slide.